National Homebrew Day came and went yesterday, and with it a helluva good time at Anti-Hero Brewing. For the second year in a row I've participated in Homebrew Day, but this year I was able to have some friends over to help with and learn about the brewing process.
The beer for the day was called R'lyeh (pronounced R-Lay, or R-lay-a, or maybe I'll just call it Reilly), a hoppy wheat ale based on the recipes for Three Floyd's Gumballhead and Modern Times' Fortunate Islands. The beer is named after the sunken city that serves as a prison for Cthulhu. I thought the idea of a murky wheat ale, hiding a hoppy surprise lent itself well to the name.
My friends Mike, Jon, and Bob came over for the brew day. Jon and Bob came up from Connecticut and brought some awesome Gandhi Bot with them, an excellent DIPA from New England Brewing Co.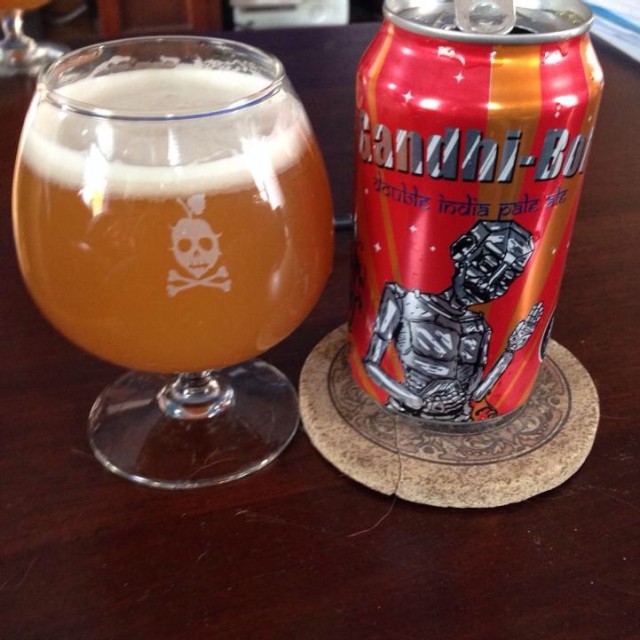 In addition to a pretty solid brew day – with minimal screw-ups and my first time using a first-wort hopping technique – we were lucky enough to get some nice weather which allowed us the time to sit outside and knock back a few beers. My buddy Greg came over afterwards to join us.
All in all a great Homebrew Day for 2014. Next year I think I'll probably attend the event at my local homebrew shop (I may even be in a homebrew group or two by then, stay tuned for details on that).
For those of you interested in the recipe for R'lyeh, it is copied below and available – as always – on Brewtoad.
R'lyeh
Efficiency: 75.0 % Batch size: 5.5 gal
Fermentables
Fermentable
Amount
Color

White Wheat (US)

5.5 lb
51 %
2  °L

2-Row (US)

4.25 lb
39 %
1  °L

CaraVienne (BE)

1.0 lb
9 %
20  °L
HopsBoil time: 90 min
Yeasts
Fermentation
Notes
Sacc. Rest at 155*F for 60 minutes.
R'lyeh is a fictional lost city that first appeared in the H. P. Lovecraft short story "The Call of Cthulhu." R'lyeh is a sunken city in the South Pacific and the prison of the entity called Cthulhu.